.....
...

Miguel F e Filipe Miranda são dois artistas portugueses, autores de vários projectos ligados à música, performance e artes plásticas. Depois de um primeiro trabalho em conjunto intitulado 'Zoon Politikon', MFFM dá continuidade aos meios de expressão, entrando também pela palavra, com uma nova performance com o título de 'Argila'. Em breve, um terceiro capítulo...
Miguel F and Filipe Miranda are two portuguese artists, each one an author of several projects related to music, performance and visual arts.
www.miguel-f.com // www.filipemiranda.net
www.facebook.com/mffm.art
BOOKING : sment.design@gmail.com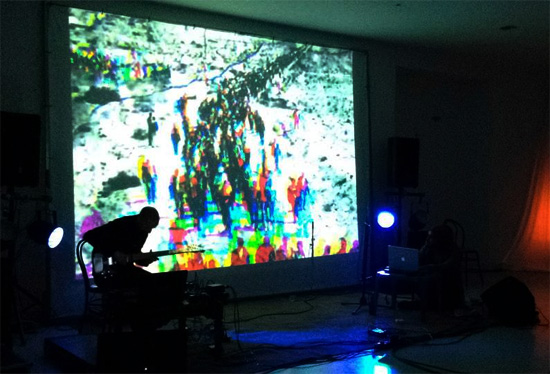 'Zoon Politikon' é a primeira criação que resulta a colaboração MFFM. Tem como base o conceito homónimo de Aristóteles que define o Homem como o único animal político, que vai para lá dos restantes animais sociais, organizando-se em comunidades e intervindo na polis (cidade). Música improvisada e manipulação vídeo em tempo real são os media utilizados na criação de metáforas visuais e sonoras, que buscam a essência desse animal político emergente nas sociedades actuais.

'Zoon Politikon' is the first creation resulting from the MFFM collaboration. It's based on the Aristotelian concept that defines man as the only political animal, that goes beyond all other social animals, organized into communities and intervening in the polis (city). Improvised music and in real time video manipulation are the media used in the creating of visual metaphors and sounds, seeking the essence of this emerging political animal in contemporary societies.
Diz-se que o primeiro poema foi um poema de amor; diz-se que foi gravado numa placa de argila; diz-se que teve um lugar geográfico para nascer; diz-se que nasceu em nós... Suméria, Istambul, Herberto Helder ou Patti Smith... coisas-mundos à solta. A palavra convoca som e imagem, o som e a imagem pedem palavra. A todos os cantos do mundo se resgatam do silêncio os caracteres alinhados e as vozes que os criam.

It is said that the first poem was a love poem; it's said that it was engraved on a clay plate; it's said that it had a geographic place to be born; it's said that it was born in us ... Sumer, Istanbul, Herberto Helder or Patti Smith... things-worlds on the loose. The word summons sound and image, the sound and the image require the word. From all corners of the world, silence and the aligned characters are rescued and so are the voices that created them.